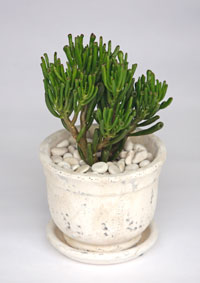 Home > Plants > Coral Jade
Plants as gifts
Coral Jade
Jade can be found thriving from the middle of the outback to the coasts of the Great Ocean Road. Its fleshy leaves and ability to grow slowly make it the ideal combination for those who tend to miss the odd watering. Some believe a well placed Jade plant in an office or home can attract wealth and luck and I say if you believe you receive!
Ideal for
Birthdays
Thank You
Property Presentation
Balcony
Select a pot type
This plant is in stock and ready to deliver.