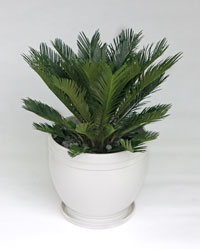 Home > Plants > Cycad
Plants as gifts
Cycad
If you're looking for something dramatic look no further. The Cycad's sophisticated leaf shape and symmetry make it perfect for smartening up a dull deck or entryway. But like most sophisticated specimen don't get too close. They may look inviting but they are spiky on their tips!
Ideal for
Property Presentation
Balcony
Select a pot type
This plant is in stock and ready to deliver.