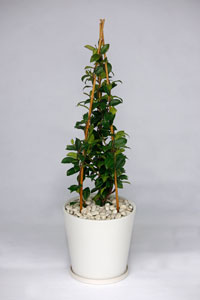 Home > Plants > Chinese Star Jasmine
Plants as gifts
Chinese Star Jasmine
Traditionally a climber the Chinese Star Jasmine is a delicate looking plant with small white flowers containing stunning scent often used in perfumes. If kept trim it can be neat and contained but let it grow and it knows no limits.
Ideal for
Birthday
Thank You
Property Presentation
Anniversary
Select a pot type
This plant is in stock and ready to deliver.